Environmental Efforts
Efforts in Environmental Issues
Fujicopian is keenly aware that environmental protection is one of the world's most important issues,
and also one of our company's most important tasks. Our corporate activities in every phase of business operations are
in line with environmental considerations and target reductions in our environmental load.
Green Procurement
Fujicopian is well aware that even a small amount of chemical contained in a product can harm people. We are now building an original system for chemical management in cooperation with our suppliers so that we can work with domestic laws such as the "Law Concerning Examination and Regulation of Manufacturing, of Chemical Substances" and overseas regulations such as RoHS of Europe, and to respond to various requirements of our customers regarding chemical restrictions.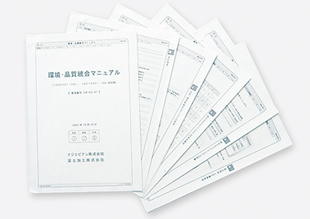 Green Production
Increases in production can be compatible with waste reduction and decreased energy consumption by switching line production to cellular production, improving machine diagnostics, and eliminating various waste that has been left unchecked in various phases of production.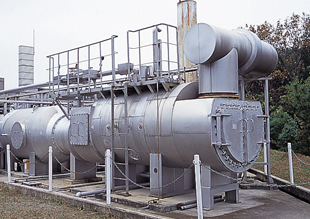 Reducing waste for the boiler with waste oil
Green Development
Fujicopian never compromises on safety, as many people from young children to the elderly use our products in many countries and regions around the world. We start by strictly selecting materials and continuously checking our production method in order to develop products that create a smaller environmental load. We work to reduce waste and energy consumption during the development phase by shortening the time required for development.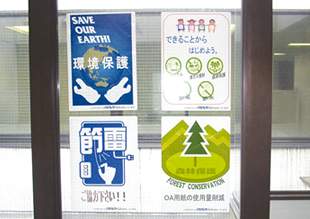 Publicize our environmental activities through leaflets
Green Sales
We re-organized distribution centers to establish a simpler distribution system by reviewing production plans and inventory management. Our energy consumption and air pollution were reduced as a result.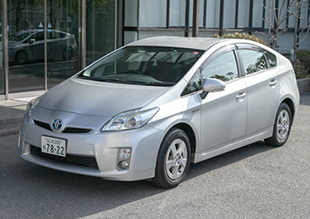 Reduced energy consumption and CO2 emission by introducing eco-cars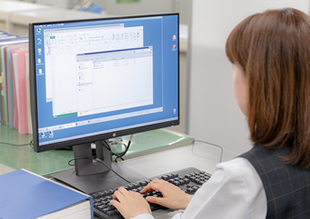 Reduced use of paper via electronic documentation
e-COPIAN 2022
Start with what we can now do among what must be done.
To all concerned parties of the Fujicopian group, we promise the following;
To maintain environmental consciousness as a corporate citizen.
To comply with legal regulations for environmental conservation and honor the terms agreed to with interested parties.
To pursue development, manufacture and marketing of eco-friendly products.
To aggressively measure for preventing environmental contamination.
To avoid complacency and constantly strive to achieve improvements.
Environmental impacts of Fujicopian Group
Site
Power Consumption
(KwH/1,000)
Paper Consumption
(sheets/1,000)
Waste
(tons)
Head office
664
717
14
Okayama Plant
/Fuji Kako
11,970
1,064
949
Tokyo Branch
46
193
1
Total
12,680
1,974
964
※The above figures represent the annual aggregate for 2021.
※The wastes include general wastes from business activities, industrial and special industrial wastes.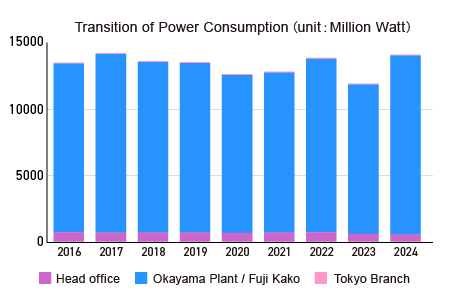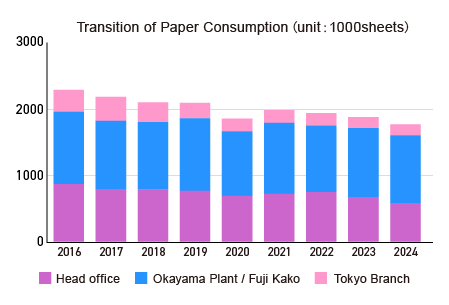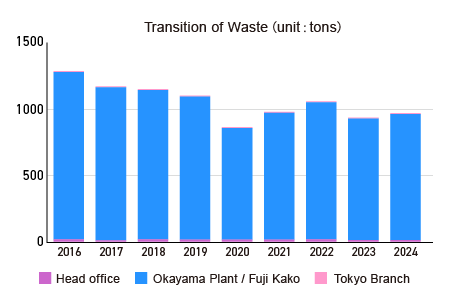 Acquired ISO14001 in April 2004
Fujicopian has established an environmental management system that promotes continuous improvements to the environment in our procurement, development, distribution, sales and all other divisions and centers of our plant and offices, including the Head Office. We determine environmental objectives annually and implement action plans towards further improvement.
Environmental Policies
Face global environment as a corporate citizen
Focus on developing, manufacturing, and marketing environment-friendly products
Comply with laws, regulations and previous agreements with other relevant organizations for environmental conservation
Work pro-actively to prevent pollution
Continuously strive to be better. Never be complacent